A Quick Overview Of TLR Lights
We're going to give you the quick version of what you need to know about Streamlight's TLR weapon-mounted lights, as they are some of the most popular models out there.
In other words, a bit of LIGHT conversation! Ha! Did you see what we...oh, never mind.
Anyway, if you were considering adding a weapon-mounted light, they're high up on the list of the usual suspects. Most people who ask us if we're going to make a gun holster with attachments, often enough it's for a pistol with a TLR light attached. Granted, we do make a few!
What The Heck Is TLR, Anyway?
TLR is a product series, a line of weapon-mounted lights made by Streamlight. Most of Streamlight's products by volume are flashlights, headlamps and the like, but there's a pretty diverse lineup of TLR lights for use with almost any type of firearm.
Some are compact models for pistols, others are larger models for use with long guns. Most would be considered tactical lights, as they're intended for use with a duty weapon or personal defense gun.
Allegedly, "TLR" stands for "Tactical Light Rail," but there's no confirmation of it.
They're known for rugged construction and reliable operation, and with pretty smart features. Normally, each model will have a couple of different versions - usually an HL (High Lumens, higher light output) a laser-equipped model, and sometimes a strobe model, sometimes a side-mounted switch model - in addition to the base model.
Some models come with multiple beam settings, some don't; it depends greatly upon which model you buy.
Power typically comes from a CR123A battery, though select models use a CR2. Run time varies by model, depending on output, power setting and so on. Usually it's an hour or two of continuous operation. The housing is typically aluminum, and most models are waterproof (within reason) so they can be used during inclement weather conditions without issue.
The rail attachment works best with Glock and other 1913 rails, which can be attached without tools. You simply pop the light on and use the clamp on the light. They work with Picatinny-style rails too, but you'll need to tighten the Allen bolt on the housing to fully secure the light.
With that said, there are compact models and larger models for use with pistols. You can select a larger light for use with like a service pistol and duty holster or a more compact model for a concealed carry gun.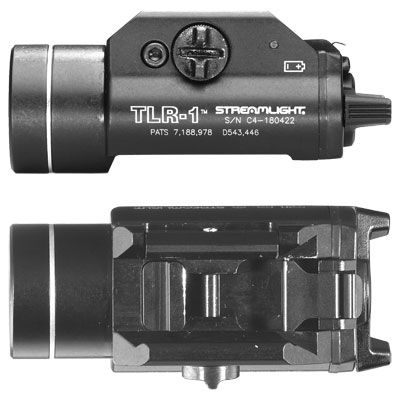 The Streamlight TLR 1 is a popular duty model, usually pairing best with a full-size pistol.
The TLR-1 is a fairly large light, measuring 3.39 inches long and about 1.5 inches wide at the bezel, and weighing about 4 ounces. The standard model has two paddle switches (one left, one right) at the rear of the housing, which you activate by pressing inward with the index finger. The housing contains two CR123A batteries, which yields an output up to 2.5 hours of continuous operation. Light output from the LED lamp is 300 lumens.
The TLR-1 standard model can be paired with a remote switch if so desired.
Variants include the TLR-1 HL, which increases output to 800 lumens, albeit with runtime reduced to 1.75 hours of continuous operation, and the TLR-1 S, which is the strobing model. The TLR-1 S has the same basic specs as the standard model, but has a strobe mode which is activated by double-tapping the paddle switches.
There is also a TLR-1 for long guns, though it differs quite a bit from the TLR-1 pistol model.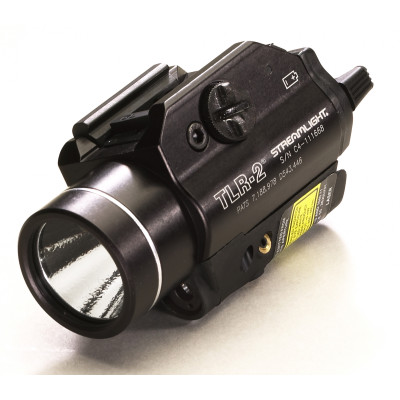 The Streamlight TLR-2 is a TLR-1 with a laser attached to the bottom of the housing. Specs are the same; same length, same basic output (300 lumens from the flashlight) and runtime. The laser on its own will run continuously for 48 hours, and can be activated via its own push-button switch at the rear of the laser housing.
The user can elect to run the light with or without the laser at their discretion. The paddle switches are the same, as - again - the only difference between the TLR-1 and TLR-2 base models is the latter has a laser.
The buyer can choose the standard TLR-2 (red laser) or the TLR-2 G, which has a green laser. Both are available in standard as well as HL and S models.
There are also Streamlight TLR-2 IRW, which has an infrared laser and strobe function as well as the LED lamp, and the TLR-2 IR Eye Safe model, which features an infrared LED and laser for use with night vision equipment. Both are rated Class 1 for eye safety. The latter is rated for 7.5 hours of run time, but since the light is infrared, it isn't nearly as visible to the naked eye in low-light conditions. The former is kind of a dual-use model; if you switch to night vision equipment, you can activate the infrared laser.
Great if you're on a SWAT team or in the special forces, but Joe or Jane Armed Citizen isn't likely to get much use out of the TLR IR models.
The Streamlight TLR-3 is a compact model, intended for use with compact pistols. The power source is changed to a CR2 battery, which is smaller than a CR123a and thus allows for a smaller housing and less weight, but unfortunately does result in fewer lumens in output and less run-time.
The TLR-3 has an output of 170 lumens from its white LED light, and a run time of 1.5 hours. Overall length is 2.71 inches and weight is 2.32 ounces, so it isn't too large nor too heavy.
The TLR-3 has no variants; it's either the TLR-3 or a different model.
While the Streamlight TLR-3 is dramatically smaller than most other lights, the lamp can extend past the muzzle with some pistols, which makes the job hard to make a holster fitting a pistol with this light.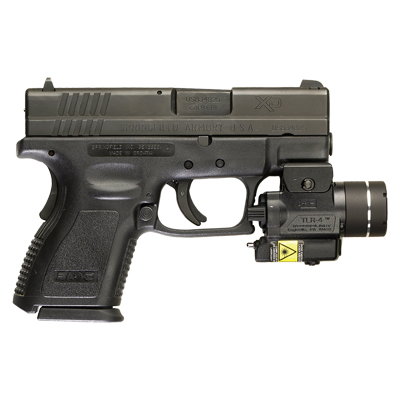 The Streamlight TLR-4, much like the TLR-2, is just a TLR-3 with a laser. Run time is the same, with a laser-only run time of 15 hours. You can select the standard (red) or the TLR-4 G model, which is a green laser.
There is no Streamlight TLR-5.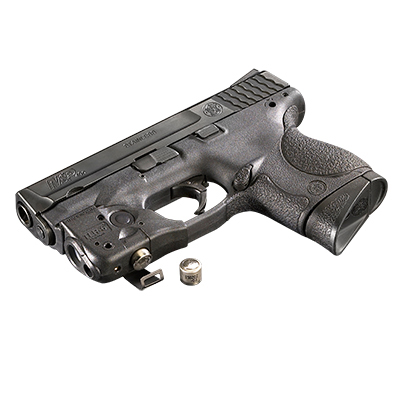 The Streamlight TLR-6 is designed for use with subcompact pistols almost exclusively, and specifically models with lack a Picatinny or 1913 style rails. This attachment, much like the Crimson Trace LaserGuard, attaches to the front of the trigger guard.
As a result, it has to be ordered for a specific pistol or for a model that fits certain models, such as a Streamlight TLR-6 Glock 43 or what have you.
The TLR-6 is powered by a CR-1/3N lithium battery, with a 100-lumen beam and a 1 hour run time, and you can elect for the model with or without a red laser. The laser-equipped models have a run time of 11 hours of laser-only operation.
Length varies by model, ranging from 2.2 to 2.97 inches in length, and 1.12 to 1.27 oz in weight.
Since the TLR-6 is made to sit more or less flush with the muzzle of most subcompact or compact pistols, finding a holster for a gun with this laser/light attachment is quite easy in most cases.
The Streamlight TLR-7 is a compact model, for use with compact pistols without being too obtrusive. However, it's also made to be more powerful than other compact Streamlight TLR models.
The TLR-7 has a 500-lumen LED lamp, with a run time of 1.5 hours with a CR123A battery. At 2.58 inches in length and 2.4 ounces, it's not too long and not too heavy. Unlike the 6, it's for use with railed pistols, so you will need a 1913 or Picatinny slot to deploy it. The compact dimensions and streamlined housing make it a popular tactical light for concealed carry or home defense use.
The TLR-7 also has a strobe mode, if so desired.
The TLR-7 is offered in two models. The standard model features low-profile side switches, or you can opt for the TLR-7 A, which has rear-mounted push button switches like other TLR lights. The TLR-7 A comes with high- and low-profile rear switches, which you can swap at your leisure.
Both models also feature a Safe Disconnect, which is a kill switch (of sorts) that deactivates the light. It's activated by loosening the beam cap and rotating it about a quarter turn until you find a detent. Leave the cap there and the light is deactivated, thus saving the batteries from accidental activation.
The TLR-7 tactical light also comes with a selection of mounting plates, which adapt it to any rail system. The mounting plates bolt to the rail of your pistol, and the TLR-7 docks with the mounting plate, and clamps in place making it rather quick to take off.
You conceivably could purchase multiple mounting plates and rotate the light between guns, which is kind of a cool feature.
In keeping with the general theme that you've hopefully picked up on by now, the TLR-8 is a TLR-7 with a laser. Laser-only mode has a runtime of 18 hours, but other than that the song remains the same.
Just as with the TLR-7, there's the standard (side switch) and the TLR-8 A model, with the rear-mounted switches, with - again - the high- and low-profile switch buttons coming with the light.
Additionally, there are also two Streamlight TLR-8 G models (standard and TLR-8 AG) with a green laser, with a red laser in the standard model.
Streamlight TLR VIR and VIR II
The TLR VIR series, which includes long gun and pistol versions of the Streamlight VIR and the Streamlight VIR II which can be used for either, is a combination LED tactical light and infrared illumination system.
The standard VIR includes an infrared mode of the LED beam for use with night vision; the VIR II adds an infrared laser along with the infrared illuminator.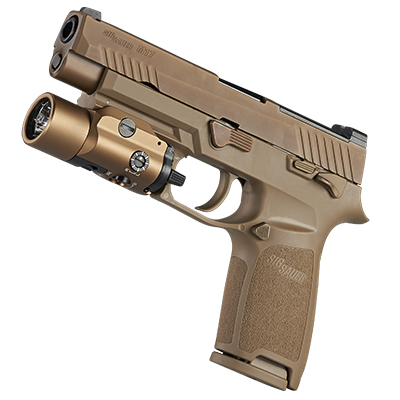 All three are for use with pistols or long guns with a MIL STD 1913 rail. The standard VIR includes adapters for use with other types of rail, but the VIR II does not.
Both VIR and VIR II models produce a 300 lumen beam from the LED light source, but the VIR II has a lower runtime at 1.5 hours compared to the VIR's 2.5 hours. Both lights can be operated in IR or LED mode, as there's a switch to toggle between them as well as an "off" setting for storage.
Both lights are 3.39 inches long. Weight is 4.2 ounces for the VIR and 3.82 ounces for the VIR II.
Like the TLR-2 IR models, not much point to them unless you use night vision goggles on the regular.
Streamlight TLR Lights Have A Lot To Offer
There's a reason why Streamlight TLR lights are so popular. They work well, they're tough as nails, the features are pretty smart and they're fairly intuitive to operate. The owner's manual is also not terrifically complicated, so very few people have any sort of learning curve when it comes to operating them.
However, as you can see, each of these products has a best-use. The TLR-1 and TLR-2 are really best-suited to duty or home defense guns, and the TLR-6, TLR-7 and TLR-8 are better-suited for concealed carry, if you were going to put a weapon-mounted light on your concealed carry pistol.
Is there a reason to get Streamlight over a different brand?
There is and there isn't.
One the one hand, Streamlight has a bit more support in the holster industry; you're going to find more holster companies that make holsters for pistols equipped with a Streamlight product than Steven Raymond William Robert's Tactical Night Sight Light Attachment For Tactical Pistols For Making Pew Pew Pew. They aren't the only game in town when it comes to weapon lights, but they are arguably the most popular or at least are one of the most popular.
If your light is going on a carry gun...it's important that you be able to carry it!
On another hand, you CAN find pistol lights with higher output in lumens, that might be a bit more compact or have more features. Olight, Nightforce and other companies make weapon-mounted lights too, after all.
That much comes down to you, what your preferences are, and what your intended purposes are.