6 Solid Bug Out Bags For Almost Any Purpose Or Budget
If you're looking for bug out bags in case of urban disaster, or even to keep in the car in case you need to hike a long way to home, there are many, many such bags on the market.
What to keep in a bug out bag is a HUGE topic. It can be anything from a few days of supplies, or even the kind of load out that will let you live off the land if need be. What kind of bag you need varies depending on the kind of purpose you have in mind.
However, here are some solid choices of bug out bags. There are many others out there, to be sure, but we selected 6 stellar choices of bug out bag of multiple sizes and price points, so just about anyone can find something here.
Get The Pistol Bag Or Survival Pack That Suits Your Needs
Whatever gear you're looking to get, make sure to get the gear that suits your needs best whether that's a gun, a holster or ancillary gear like a pistol bag or a bugout bag. Identify what your priorities are, and go from there.
GET A WORLD CLASS PISTOL BAG HERE
Some people want an enormous range bag that holds an incredible amount of kit. Others just want a simple carrying case for a couple of guns and maybe a few magazines. Some people want a pack they can live out of for a week or two if needs be, and others just want a grab-and-go with a few essentials.
It's really all up to you.
However, once you've identified what your ideal outfiiting is going to be like, then you're able to start equipping yourself for success.
Tactica Defense Bug Out Bag
The Tactica Defense Bug Out Bag is something of a middle ground between a long-range survival pack and just a roomy backpack. The pack is nominally a 39-liter backpack, but the main compartment expands to 64-liter capacity, which is roughly a 4- to 5-day pack for long treks.
The pack has two outer compartments for storing small items, and a pouch in the main compartment for a hydration bladder. The shoulder straps are adjustable, as is the included waist/hip belt. The bag is constructed of stiff nylon weave, so it'll hold up on the trail.
MSRP is $73.99, which is solid value for money. This is our overall top pick. While Tactica Defense Fashion is nominally a women's brand, this bag is a great buy for anyone.
Kelty is one of the most trusted names in outdoor gear, and the Kelty Trekker is the modern version of the backpack that made the brand famous. The Trekker is a 65-liter external frame pack. If you need a workhorse pack for rough country, this pack system from this manufacturer has been a proven performer in that role for decades.
The Trekker has a generous main compartment, with a sleeping bag compartment and four generous zippered external pockets. A reservoir sleeve is included, so you can put a Camelbak or other hydration reservoir in the pack as well. The main compartment zippers closed for security, and the top cover with compression straps can make sure a heavy load is lashed down tight for long treks.
The padded shoulder straps and hip belt provide comfort while carrying. If you anticipate a long walk to safety and needing to carry plenty of gear to get you there, this bag will do it and then some. It's a bit spendy at $119, but you're investing in one of the all-time great wilderness packs.
Drago Gear Assault Backpack
The Drago Gear Assault Backpack is the first of our assault packs on this list. At 2260 cu.in. (about 35 L) it's neither small nor too large, a popular size for an assault pack. It's big enough to load up for a couple of days on foot if needs be, or perhaps up to five days with the right load out and other equipment.
The main compartment has a pouch for a hydration reservoir, with a sleeve through the top to have hydration on the move. MOLLE/PALS webbing is on the pack and the hip belt - which can therefore mount a MOLLE holster - and the compression straps can be used to store additional gear on the sides, along with sleeping bag/bedroll loops on the bottom. The bag also has three external storage compartments for ancillaries like toiletries or ammunition and magazines.
The bag is made from 600D nylon, so it's durable. With adjustable straps and the hip belt, it's very easy to carry comfortably. Expect to spend about $80. It's well-worth it.
If you like the idea of gear that's combat-proven, one option is to find a surplus ALICE pack. ALICE, or All purpose Lightweight Individual Carrying Equipment, was the load-bearing system used by US armed forces from 1973 to about the end of the 20th century. While it's actually an entire system, the backpack itself is what we're concerned with.
You can find used examples at many military surplus stores, or find new manufactured iterations from companies like Fox Outdoor or Rothco. The originals were made with heavy canvas, modern reproductions are usually nylon. In either case, you get a large main compartment and three outer compartments. Medium ALICE packs are roughly about a 30L pack and large ALICE packs are about a 45L pack.
You can add the straps to the pack itself, or get a pack and a frame with shoulder straps and waist belt. By modern standards they aren't great, but what isn't arguable is ALICE gear is made to hike over hill and dale with a heavy load without too many issues, and that's why some people still insist on using it.
Again, these are field-proven to work. You can expect to part with $200 at most, but somewhere around $100 even for a new pack and straps isn't uncommon.
Condor Outdoors makes very decent budget-friendly tactical gear, and their 3-Day Assault Pack gives you a heck of a lot of capacity without being too large, at 50L total capacity. There are two full-size compartments, four accessory compartments, and a hydration bladder compartment as well.
It isn't hugely large; this isn't an expedition pack. However, it's big enough for this to be a very smart choice of bug out bag.
If you want as much organization as possible for storing things like a med kit, ammunition and other supplies, this bag has a huge amount of organization built into it. The padded, adjustable straps and hip belt also make longer hikes tenable. Expect to part with about $80 to $90.
Mystery Ranch 2 Day Assault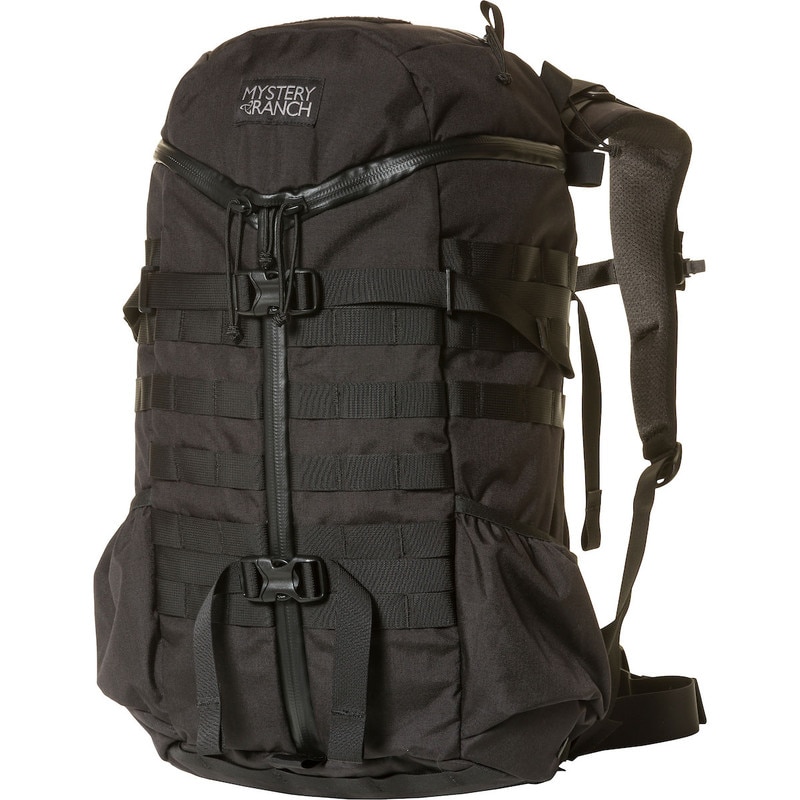 Mystery Ranch makes some of the best outdoor gear, especially packs, that money can buy, and their 2 Day Assault Pack - MSRP is a stiff $199 - is one of the best minimalist bug out bags you're going to find.
Storage is balanced with organization, as the main compartment has a Y-zipper design with a number of interior pockets and compartments, as well as a main compartment for larger items. Overall storage capacity is just under 30L, so it's not enough for days on end living off the land. However, if you had to make an overnight or weekend walk to safety, it could work if packed smartly. A hydration reservoir is included, as are compression straps and MOLLE/PALS webbing if you wanted to attach accessories like a sleeping bag.
Some people pack a bug out bag for almost any contingencies, and some people want to pack just the bare essentials. This is one of the best possible bags you can get for the latter.