Double Stack 1911. You CAN Get One Without Going Broke
You can definitely pick up a double stack 1911 without going broke...or at least, too broke. Unfortunately there aren't a heck of a lot of them that go for rock-bottom prices, and you probably wouldn't want one anyway.
Granted, they aren't exactly concealed carry friendly in many instances. Neither are the well-known examples friendly towards your wallet. STI pistols - while they are lugubriously beautiful and insanely well-made - will run you $3,000 or more. Competition race guns from other brands...well, there's no way you're getting out the door for less than $2,000.
However, this format of gun has some cachet as a competition pistol or home defense gun, keeping the excellent ergonomics of the 1911 pistol without the drawback of reduced capacity.
Except...the format is starting to catch on a bit more. There are a growing number of examples that you can pick up for much more reasonable amounts. Be aware though...they still aren't exactly cheap, as the guns on this list aren't bargain basement.
However, here are 5 double stack 1911 pistols that you can pick up without going broke.
Rock Island Armory GI Standard FS HC: The Most Affordable Double Stack 1911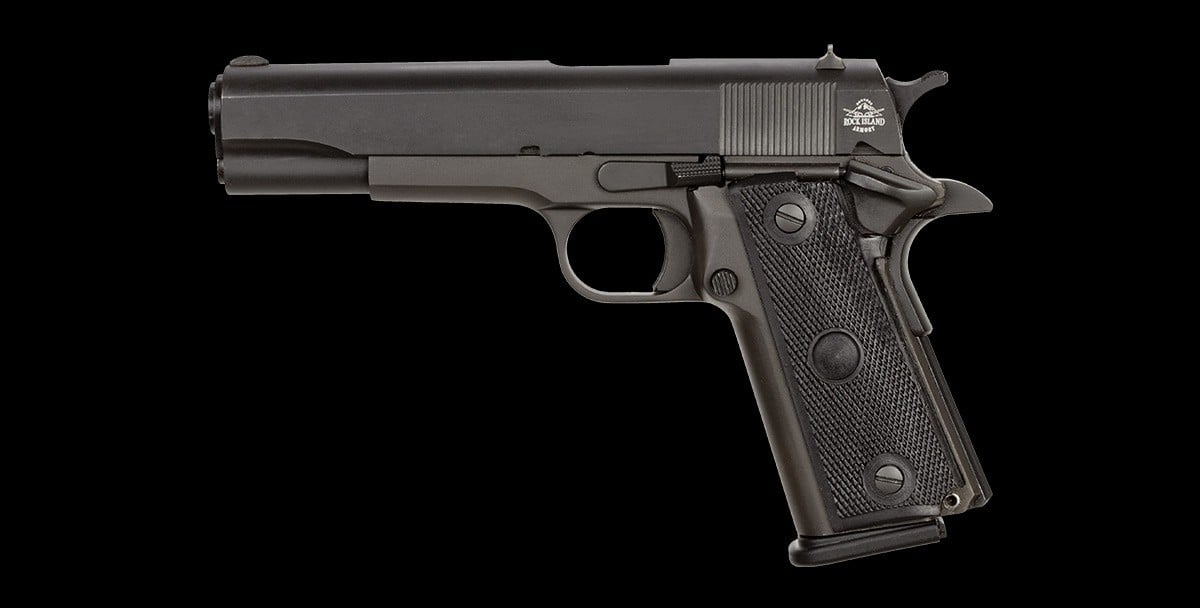 If you want a double stack 1911 with the least amount of investment, the Rock Island Armory GI Standard FS HC is the ticket. MSRP is $608, which means street prices will edge closer to $550 or less. However, what you save in money, you give up in accoutrements.
It's a bare-bones gun, with a parkerized finish, GI style thumb safety, GI style sights, and a GI-style grip safety. Polymer grips, and the gun ships with one (1) 10-round magazine, with 14-round magazines being available for purchase from RIA. It's chambered in God's caliber, .45 ACP.
It's a GI pistol that holds more. Granted, Rock Island Armory makes rugged, reliable working-class guns, so it'll run. You could leave it as-is or hot rod it if you wanted; all up to you. The good news is that since it's based on the Para/Caspian frame, design...holsters aren't too hard to find.
Rock River Arms 3G-11: 1911 9mm Double Stack For Competition
One of some new guns that Rock River Arms had for SHOT Show 2020 is the Rock River Arms 3G-11. If you wanted something more or less exactly like a 2011 but didn't want to spend as much, it's a quality option that will be realistically affordable...but not cheap.
For those unfamiliar, Rock River Arms makes their 1911 pistols the old-school way; they make hand-fit, custom double stack 1911 pistols. In terms of how they build their guns, as well as price points, they're more or less in the same league as Dan Wesson as opposed to Sig Sauer, Springfield Armory or Colt.
The 3G-11, which may be renamed at some point, is thoroughly a competition pistol, with a 2011-style stainless steel slide and frame. If you want bells and whistles, it's got 'em. Forward and rearward slide serrations, Novak-style sights, ambi safety levers, upswept beavertail safety with memory notch, skeleton trigger and hammer, and a flared magwell for fast reloads.
This thing is built for sending a lot of pews downrange rather than concealed carry, so know what you're getting into. Final prices aren't available yet, but after talking to their guy Steve at the SHOT Show booth...I'd anticipate somewhere around $1500. Again, not cheap, but the build quality alone is worth the price of entry.
Tricked Out Double Stack 1911 For A Little Less: Rock Island Armory Tac Ultra FS HC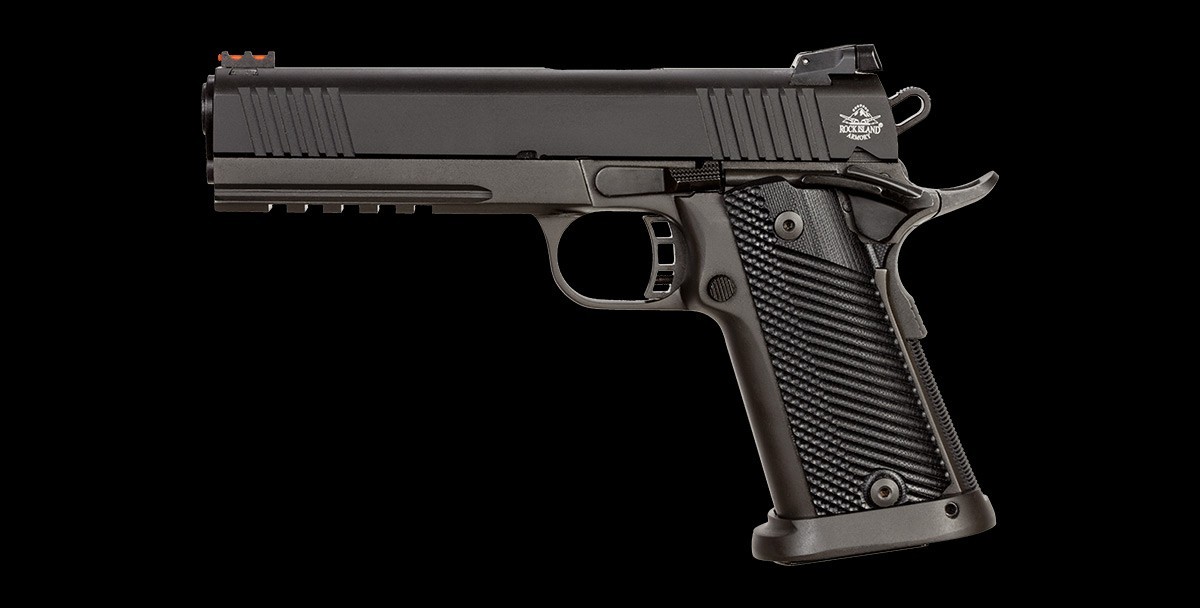 Another double stack 1911 that won't break the bank is the Rock Island Armory Tac Ultra FS HC. This one is the full meal deal, with many of the features people like about 2011-style pistols without the eye-watering price tag.
MSRP is a far more reasonable $906, which means more like $800 on the street so to speak.
For that, you get a parkerized finish, G10 grips, beavertail grip safety with memory bump, Novak-style target sights (black rear, fiber optic front) ambi competition-style thumb safeties, and your choice of .45 ACP (14+1 capacity) or 9mm, which bumps capacity to 17+1.
If You're Willing To Do Some Digging: Remington R1 Recon Commander Double Stack 1911
If you're willing to do some hunting, another good example of a double stack 1911 for a decent sticker price is the Remington R1 Recon Commander. Expect to shell out about $1,000, maybe as little as $900.
For those unaware, Remington bought and absorbed Para USA to make their 1911 pistols. The Remington Recon is just a Para Recon model with "Remington" on the slide.
So, what gives? It's a double stack commander, in .45 ACP or 9mm giving you 15+1 or 18+1 capacity. The finish is black PVD over stainless steel. The frame also has the addition of competition-style ambi safety levers, a beavertail grip safety with memory notch, and a flared ejection port. A skeleton hammer and trigger is added to reduce weight. Sights are Novak-style sights, and the frame is railed if you want to add accessories, and G10 grips are added along with 25 LPI checkering on the front and back of the grip.
Why would you? Remington 1911 pistols have excellent build quality and very good triggers, but because it says "Remington" on it instead of "Colt," people tend to ignore them. And that's just silly. If you can find one, this would be a great pick. And since it's for all intents and purposes a Para Black Ops 14.45 Commander, that means it fits any Black Ops 14.45 Commander holsters.
Double Stack 1911 vs. 2011 pistol. What's The Difference?
What is the major difference between 1911 vs 2011 pistol? The major difference between 1911 vs 2011 is that 1911 is an outdated design, while 2011 is the most current design.
The 1911 pistol was designed over 100 years ago, and while it is still in use by some military and law enforcement units, it has been superseded by more recent designs. The 2011 pistol is the most current design, and incorporates features that make it more reliable and easier to use than the 1911. The 2011 also has a more ergonomic design, which makes it easier to hold and shoot. It also has a built-in rail system, which allows you to attach a flashlight or other accessories.
About The Author