As a police officer, I have been using a light mounted to my handgun for over a decade. The first weapon light itself dates back to 1902 but there were problems keeping the filament from breaking due to recoil. The next advancement came during a banner year in the firearms industry: 1911. That's when George Seely filed a patent for a weapon-mounted light with rubber and springs to cushion the bulb.
Mounting a light source to a firearm became something manufacturers and the military tried unsuccessfully but many line level officers and soldiers found themselves rigging lights to their firearms. As a podcast host, I've had the pleasure of interviewing numerous law enforcement officers from all over the world about tactics and gear. I've even interviewed an ATF Agent who has been involved in many tactical operations including Ruby Ridge who described using the old school cop method, tape the light to the barrel.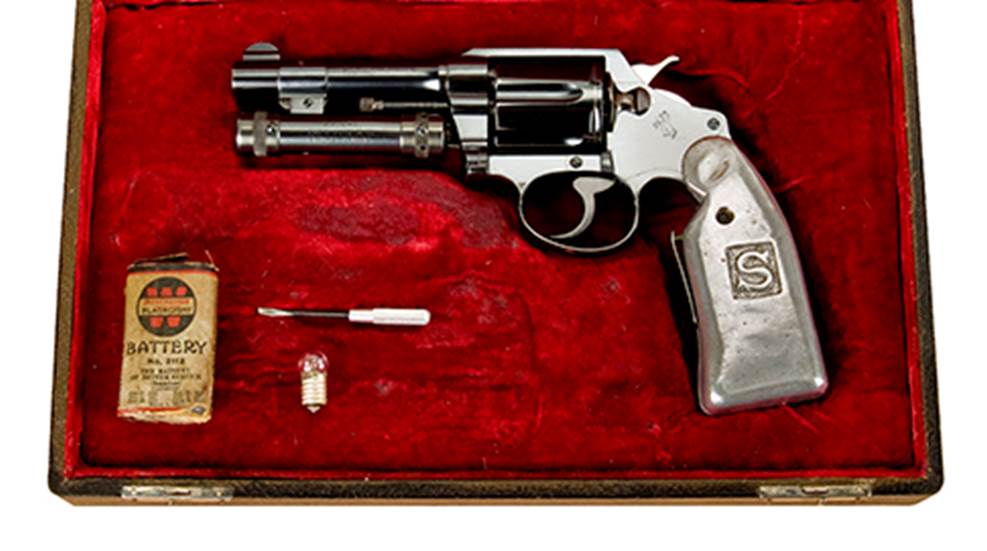 George Seely's Weapon Light from 1911 (Photo via American Rifleman, 2013)

They are such a great option for low-light conditions when a firearm is required that they have become an industry standard for military and law enforcement around the globe and so popular that gun manufacturers are behind the times if they do not include a weapon light rail on their handguns.

But with so many options now, how do you choose the best light for you? In this article we'll be talking about the 5 most popular weapon light manufacturers on the market; Streamlight, Surefire, Nightstick, Olight and Inforce. I know many of you are thinking "What about Cloud Defense and Modlite?" I hear great things but for the purposes of this article I stuck with the 5 major brands available on the market that will fit within most people's price range.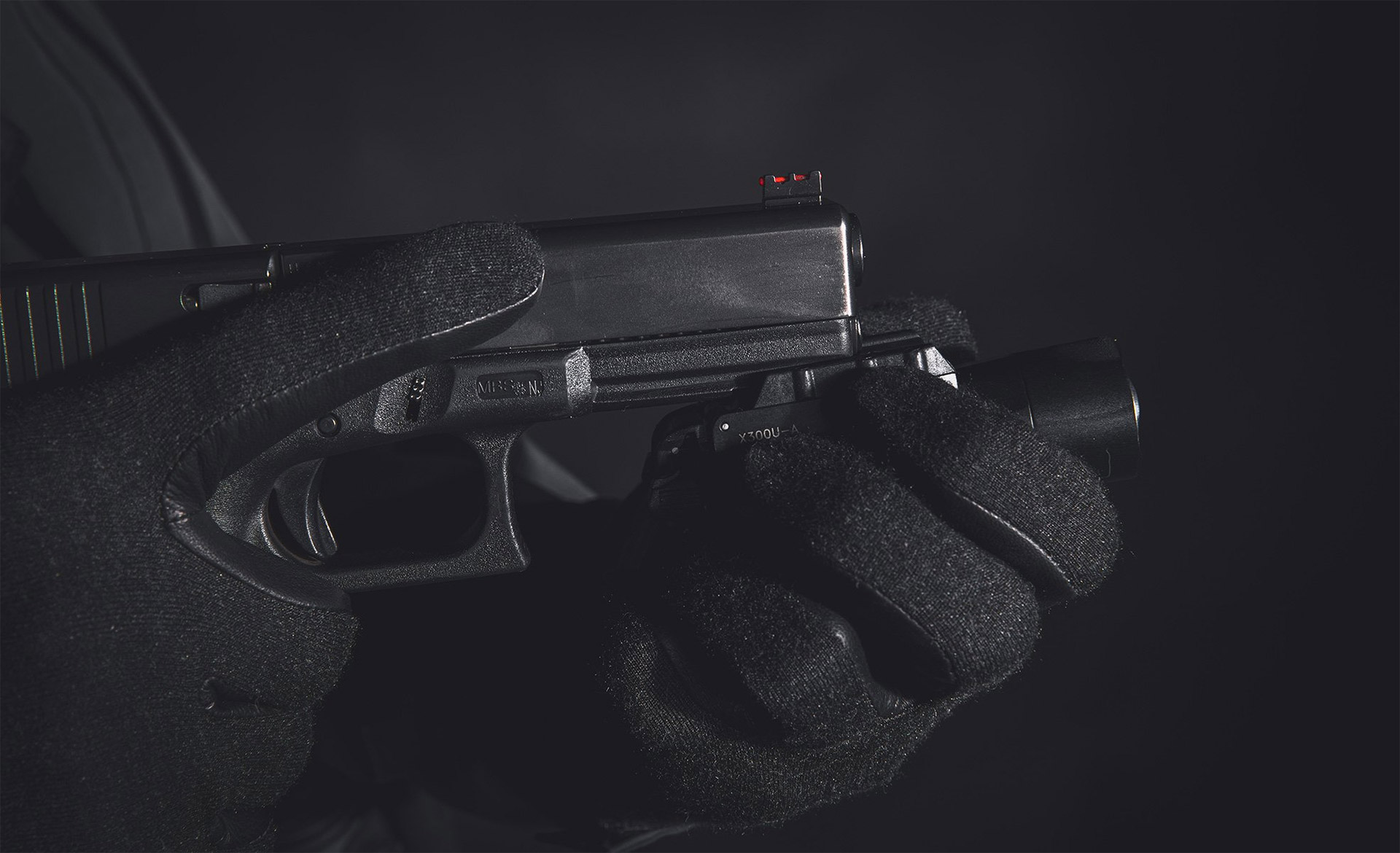 Attaching A Weapon Light (Photo via Varusteleka.com)
I've broken the lights down into 3 different categories: best light/laser combo, best for a compact firearm, and best overall. Full disclosure, I am not being compensated or sponsored by any of these manufacturers which means I have no dog in this fight other than my reputation so let me give it to you straight.

All of these lights will work. All of them are objectively fine and they all look very similar. However, when you consider cost, lumens (light output), run time, durability and reliability, you can start to see some differences emerge. Additionally, this is all based on my personal preferences and criteria. You may have a different preference than mine, however, you should have the information needed to make your own educated decision.
Best Light/Laser Combo
Olight BALDR Pro R (Photo via Olightstore.com)
Let's talk about the Olight Baldr Pro R Rechargeable Light with GL. Yes, it's an Olight and yes, people hate on them, but it is a light/laser combo with a price tag around $169.00 which makes it hard to beat (especially on a tight budget). Several factors that informed making this decision for this spot was a few things. First, the price. Olights are definitely budget friendly but in doing research for this article I discovered many loyal Olight owners who say that the value of the light exceeds the price.
Second is the lumens and efficiency. With a 1,000 mAh rechargeable battery, the Pro R is able to maintain a 1,350 lumen output (a 75w incandescent bulb is about 1,100 lumens) with a 1.5 hour run time. The Pro R also has 3 light modes, a magnetic charging port, and comes in black, tan and olive drab. All-in-all not bad for a weapon light competing with lights that are double and triple the Pro R's price tag.
Best compact light:
Streamlight TLR-7 Sub (Photo via Galls.com)
On this one I wanted to say that the Surefire XC1-B would take it because it's great for concealed carry, but for the $300 price tag, it only has 300 lumens and uses AAA batteries. Sure, it has a very low profile but it just didn't seem like it was better than competitors.
The Streamlight TLR-7 Sub may be slightly bigger but it has 500 lumens, uses a CR123 battery, and has a 1.5hr run time. The TLR-7 also fits a wide range of full size and compact guns, has an ambidextrous rear switch. This, to me, has the most options and a price tag around $125.00 doesn't hurt.
Best overall: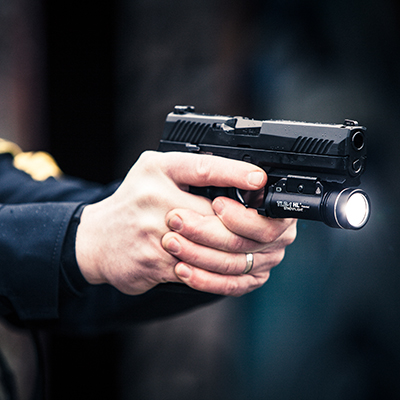 Streamlight TLR-1HL (Photo via Streamlight)
The Streamlight TLR-1HL takes this spot. Streamlight has, to many, been seen as the "store-brand" version of Surefire but in this author's opinion you can't go wrong buying their products. Streamlight's products compete in every way with Surefire, they just do not have the brand recognition or price tag that Surefire does. The TLR-1HL comes in at roughly $140.00, delivers 1000 lumens with 1.5 hour run time and mounts directly to the gun with a standard Glock or Picatinny rail. These lights are relatively inexpensive when compared to Surefire, but their tough aluminum housing makes them very durable and functional.
So, at the end it looks like the Streamlight and Olight have product lines that seem to do much better than the competition. When it came to Inforce, while they are unique looking lights, of the two models available for handguns, the larger more powerful light has had documented reliability issues. Add to that a lack of choices in models and features just did not put them over the top for me.
Surefire has great products and are very well-built and reliable. You cannot go wrong buying Surefire, especially when budget is not an issue, but for many working stiffs like myself, budget is something to consider.
Now this may be different for you, but for me, when you balance cost against features and reliability, these are the top lights. Some other things to consider when choosing a light? While some recommend rechargeable lights to save on batteries, remember that when a battery-powered light goes down, you can be back in the fight with only a brief period to change batteries whereas a rechargeable light is out until it charges.

Additionally, look at the size of your firearm and what conditions you will be shooting in and what the purpose of your weapon light is. Those who purchase weapon lights for professional tactical reasons may have different criteria than those who are looking for a handgun light for when they are outdoors and may have to draw their weapon in low-light situations.

Stay Frosty,
Chuck.
About The Author