The Best Concealed Carry Guns That Came Out In 2018
2018 is rapidly approaching its close, but some fantastic concealed carry guns came out this year. In fact, a concealed carry pistol could be found for nearly any and every sensibility from 2018's crop of CCW guns.
Let's take a look back at the best concealed carry guns of 2018. You either can right now or will soon be seeing them in gun stores, so these are some carry guns to keep an eye out for.
Kimber Micro 9 TLE
Kimber's Micro 9 takes the Micro - a micro 1911 in .380 - and scales it up for 9mm, much like the Sig P938. It's actually one of the most popular carry guns out there (we sell a lot of Kimber Micro 9 holsters) and for good reason. It's light, slim and ridiculously easy to carry, and chambers the most popular carry round on the market. What's not to like?
The Micro 9 TLE is a new variant wearing Kimber's TLE trim package. The frame and slide are given a tactical blackout, and green G10 grips are installed to slim the grip panels and give the shooter a bit easier purchase. Night sights allow for sighting in any environment. This is a micro gun you can carry at any time, whether a primary carry gun or backup pistol.
It isn't alone, however, as Kimber as unleashed a number of Micro 9 pistols in different finishes for 2018. Stainless, Two-Tone, CDP (stainless slide, black finish), Nightfall (total blackout) and Desert Night models are also available. Some models feature Hogue grips for even more comfortable shooting.
CHECK OUT OUR KIMBER MICRO 9 HOLSTERS!
Sig P365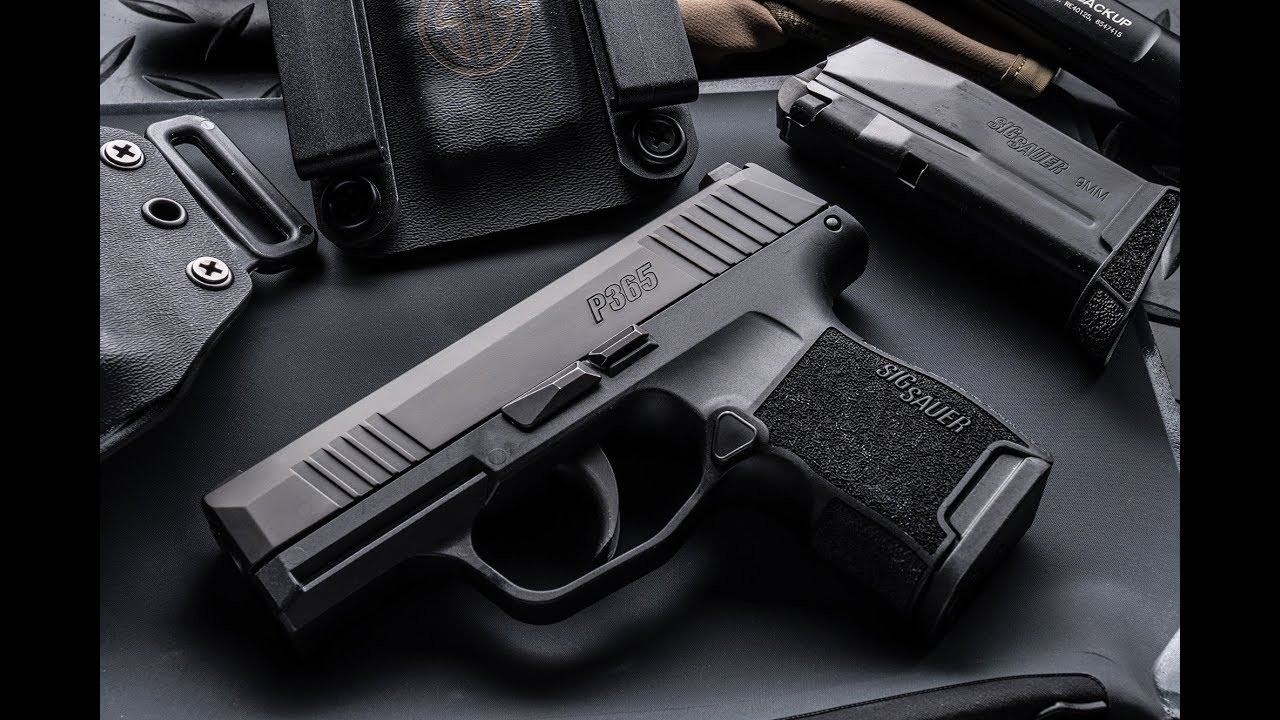 The Sig Sauer P365 was devised to solve the riddle of carrying capacity vs size once and for all, with an innovative magazine design that allows for more rounds to be carried in a magazine. By tapering a subcompact-size magazine, they were able to fit 10 rounds in the space that normally fits 6 or 7, thereby reducing width of the pistol. As a result, the P365 is the same size as the M&P Shield, Glock 43 or Springfield XD-S, but carries 10+1 in a flush fit or 12+1 in an extended magazine.
That way it can be carried...wait for it...365 days a year.
The P365 is certainly stacking up to be one of the best concealed carry guns of 2018 or, indeed, almost any year.
CHECK OUT OUR SIG P365 HOLSTERS!
Springfield 911
Springfield Armory decided that they wanted to create their own version of the Colt Mustang and thus has cooked up a micro-1911 in .380: the Springfield 911. Their marketing materials read that since "police are minutes away when seconds count" therefore "something something 911," which is actually pretty clever. Points to Springfield.
That said, the 911 is actually a pretty smart little gun. It features slim textured G10 grips, tritium sights and a tuned trigger for a smooth, easy pull. A beavertail was added to the frame to cut down on slide bite, and .380 pistols are among the worst offenders in that category. Therefore, it is very easy to conceal and carry. You get a few choices of finish and it can be had with a Viridian laser grips from the factory.
Capacity is 6+1 with a flush magazine and 7+1 with a pinky extension. Reviews indicate that it shoots very easy for it's size and is more accurate than most other micro pistols. If you're looking for a backup gun or a very compact primary carry pistol, calling 911 (like we're not going to make that joke) may be a very good idea indeed.
CHECK OUT OUR SPRINGFIELD 911 HOLSTERS!
Beretta APX FDE
The Beretta APX was Beretta's bid to keep its contracts with the US armed forces which was unfortunately unsuccessful. They decided to heck with moping about it and released a civilian version, which now features a new finish in the Beretta APX FDE model, wearing a smart Flat Dark Earth finish.
Along with that, you get the features that make the APX one of the better striker-fired pistols on the market today. A low-bore axis for easy recoil control. Interchangeable back straps for incredible comfort. 17+1 capacity in a pistol that's smaller than most service guns, so it's usable for concealed carry.
CHECK OUT OUR BERETTA APX HOLSTERS!
Remington R1 1911 Ultralight Executive
Remington absorbed Para USA several years ago, and they have been put to work expanding the R1 1911 line. Their latest creation is the R1 1911 Ultralight Executive, which is a lightweight Officer frame. Remington has had several models of Commander frame come out, but they finally have an Officer's model.
The Ultralight Executive features a 3.5-inch match-grade bull barrel, and is - for now - only offered in .45 ACP. It gets a PVD slide finish, thin textured grips, a bobcut mainspring housing and night sights on an aluminum alloy frame. Unloaded weight is only 28 ounces, light for a 1911. Don't worry about hammer or slide bite; it comes with a beavertail grip safety and a skeletonized hammer. The trigger is also given the skeleton treatment and can be dialed from 3.5 pounds to 5 pounds, so a featherweight crisp break is possible.
Big Green has had some serious issues in recent years with other guns (the 700, the R51) but the R1 line is known for delivering serious performance for a comparative value. Some reviewers put the higher-end models up there with some custom guns.
CHECK OUT OUR REMINGTON ULTRALIGHT EXECUTIVE HOLSTERS!
Kimber K6s CDP
Kimber is known for bringing refined touches to all of their guns, giving owners a taste of luxury without custom shop prices. The Kimber K6s CDP, a new variant of the K6S revolver, is just such a concealed carry revolver. It gets the refined touches of the CDP line of 1911 pistols and applies it to the K6s revolver.
The K6s CDP starts with the standard K6s pistol, with 6 shots of .357 Magnum with a beveled cylinder for a slimmer width. The frame is given a black coating for a gorgeous two-tone appearance. The trigger is upgraded to a match-grade non-stacking trigger that breaks at 9.5 pounds. The grips are upgraded to rosewood and contoured for even greater comfort.
The K6s is already a handsome pistol, and a great CCW revolver. The K6s CDP makes it a little better.
CHECK OUT OUR KIMBER K6S HOLSTERS!
EAA Witness Polymer Commander 1911
EAA is usually known for the Witness series of pistols they import from Tanfoglio, but the polymer-framed 1911 pistols - the Witness Polymer 1911 - is getting some little brothers, starting with the EAA Witness Polymer Commander 1911. The Commander frame is designed for easier carrying, and the lighter frame weight enhances those attributes.
It comes with a Picatinny rail, so you'll need a holster for a railed 4.25-inch Commander frame but that isn't too hard to come by if you find the right holster company. (Cough, cough.) It's offered in 9mm or .45 (as John Browning intended) and comes in any color as long as you like black. The polymer frame reduces weight to about 29 ounces, which - while not the lightest - is lighter than most Commander frames but about on par with the Colt Lightweight Commander 1911.
Yes, it's still a 1911 and that means you have to master the thumb safety (which isn't hard) but it's also an easier toting one that can take a light if you want it to. That's a pretty smart carry gun for 2018 or any year.
CHECK OUT OUR RAILED 4.25 INCH COMMANDER 1911 HOLSTERS!
Have you shot these firearms? What did you like, and what didn't you?
Let us know in the comments below!