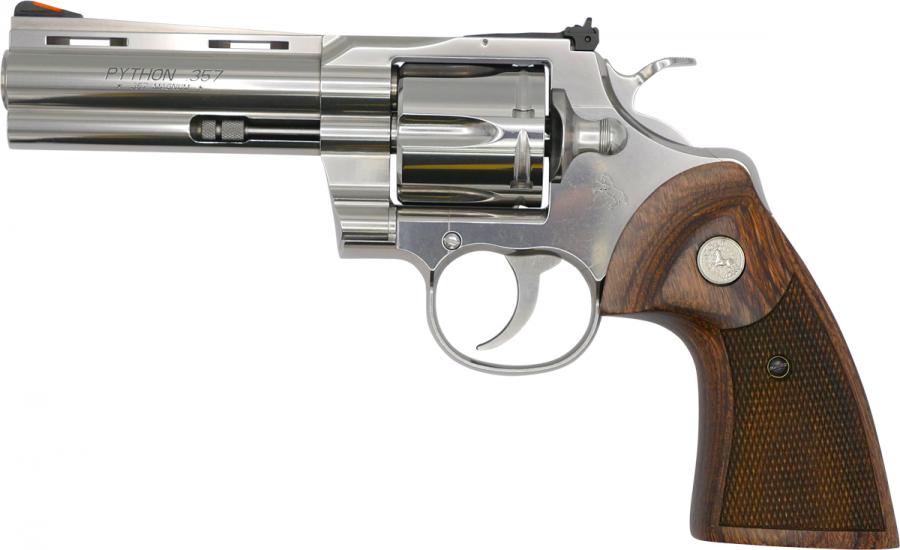 Let's talk about the resurrected snake gun in the Alien Gear Holsters' Colt Python review. We handled it, we shot it, and ooh boy is it just about everything we thought it could be.
Make no mistake. This is no mass-produced, black plastic tacticool toy for pretending like you're John Wick or something when in fact a person is a 44 year-old accountant named Greg, and is boring. The Python is an example of how good guns can actually be...but you have to pay for the privilege.
And oh boy is the Colt Python worth it. If you want a 357 Magnum with some real refinement, it's definitely one to look at.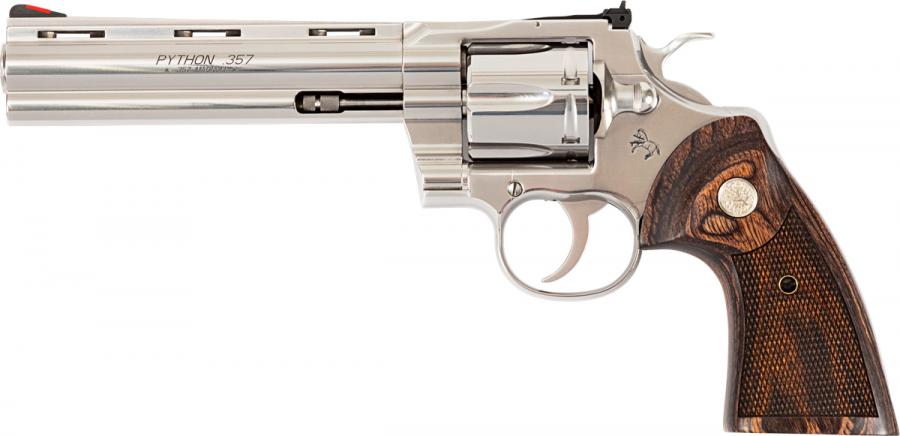 The Colt Python went out of production for good in 2005, though it had been reduced to a custom-shop-only gun by the late 1990s. Since then, values on the used market have soared (good examples cost several thousand dollars) and people have been clamoring for Colt to bring them back.
Granted, there are some good reasons for the gun's discontinuity. The internals of the original Python were all handfit; the parts from gun A would not work in gun B. That made the trigger a tad inconsistent, and the lock work very delicate. Original Pythons were known to need the timing adjusted with only a few hundred rounds being fired and even more often when the shooter fed it a steady diet of .357 Magnum.
That made a big selling point for the Ruger GP100, as it was less tempermental than S&W and Colt pistols with their lofty pedigrees.
Obviously, hiring and training a whole new generation of gunsmiths to hand fit revolvers one at a time just wasn't feasible. So Colt went back to the drawing board, revising the design of the Python. They simplified the mechanism, reducing the total number of moving parts to 14. Using modern machining, the tight clearances for smooth operation are maintained.
Obviously, it's a medium frame revolver. It holds 6 rounds of .38 Special or .357 Magnum. Specs are as follows:
Barrel: 6" or 4.25"
Overall length: 11.5" or 9.75"
Width: 1.55"
Height: 5.5"
Weight: 46 oz or 42 oz
MSRP: $1499...IF you can find one!
The new version also has 30 percent more metal added to the top strap, making the frame stronger than the original.
The one-piece match barrel is installed in that glorious full-length ejector shroud and underlug. The sights are an adjustable rear sight and a dovetailed front sight. The stock front sight is a black blade with a red insert, but it can be changed to a fiber optic, night sight or gold bead as the user wishes.
The finish is stainless steel, and comes with wood panel grips. Grips for the previous generation Python will fit, so you can swap them for a pair of wood stocks from Hogue or Herett as you wish.
But what's it like?
Where to start with our Colt Python review? Well, let's start with the ergonomics.
Ergonomically, the pistol is excellent as medium-frame revolvers are very comfortable for most people. However, those with smaller hands may find the grips too large and the trigger reach too far, especially when it comes to the DA trigger pull. Those whose hands are too large will want either a set of oversize grips (Jordan Trooper stocks from Herretts, for instance) or a Tyler T-grip to keep from getting their knuckles rubbed.
However, nothing about that is new. The Colt Python is an old gun made with new manufacturing techniques. (CNC machines didn't exist when these things first came out.) Small hands and poor fit was a known quantity in 1950; if it's new to you today...well, I just don't know what to tell you.
The trigger is glorious. DA pull is about 8 to 9 pounds, ludicrously smooth, and the single-action press is about 4 pounds. The single-action press is short and unbelievably crisp.
As far as we could tell, the Python is incredibly accurate. It was a favorite of many competition shooters in PPC (Police Pistol Competition) events and the early days of other practical shooting series. However, like many other DA platforms, it rewards proper technique and punishes sloppiness. It will astound you with accuracy if you do your job correctly.
The stainless steel finish is bite-the-back-of-your-hand gorgeous. The walnut grips are tastefully checkered and beautiful. They're just rough enough to get a good grip, but not raspy.
I asked Colt if they were going to be offered in Royal Blue. I have some good news and some bad news on that score.
The good news is a black nitride version will be coming out in a number of months, so there will be an alternative eventually. The bad news?
A proper deep Royal Blue finish, which is currently not available, may eventually be an option as a custom shop order. So you'll probably be able to get it, but you're gonna pay for it.
Obviously, you won't be getting one for daily carry. It makes a dandy home defense or outdoor carry revolver, but something tells me not too many folks are going to get one for those purposes. This is an enthusiast's gun, and with a price point to match.
The thing is that some guns are a product, and others are an example of craft. Mossberg cranks out shotguns by the bushel; Holland and Holland, Purdey, or Aguirre y Aranzabal make them one at a time, to order. Do Mossberg make bad guns? Far from it. People buy H&H, Purdey or AyA guns because they're beautiful, functional, and because they're special.
The Colt Python is the latter kind of gun. There are other .357 Magnums out there that will do all the shooting you want or need for half the cost or less. You get the Python because you want a pistol to appreciate.